The brain of network has a huge responsibilities for any system administrator. From day to day complicated Active Directory management to performing the networking tasks. All must done clearly to keep the engine of your network warm and have peace of mind. The Softerra provide an Active Directory auto management tools (Adaxes) that empowering system admins with it's powerful tools to manage Active Directory faster and easier. 
Adaxes Active Directory Auto Management Tools
In this review post I want to write about pros & cons of Adaxes, Active Directory Auto management, monitoring and administration tools from Softerra Ltd. It's very important to know how Adaxes can help IT professionals to automating Active Directory managements in their daily duties, while the builtin AD management tools are pretty powerful in Windows servers.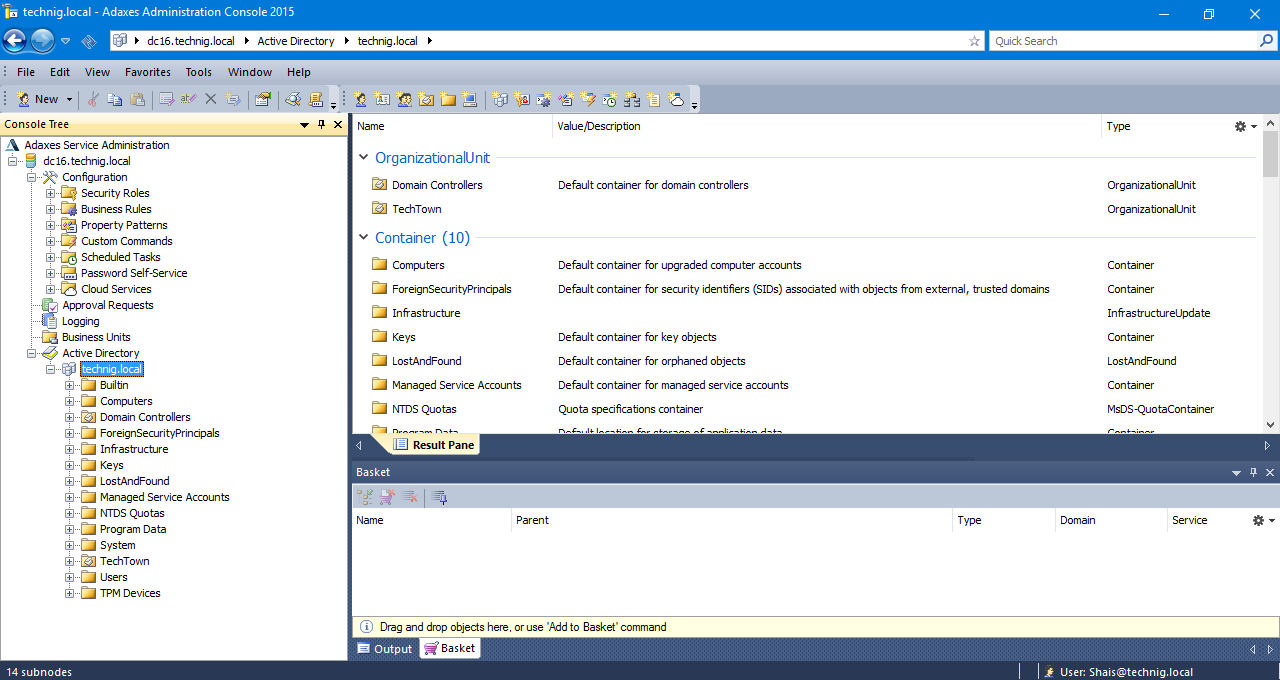 I can say the Adaxes is a replacement solution for ADUC as Active Directory management tools. It has it's own GUI central interfaces, Web interfaces, and PowerShell cmdlets for managing Active Directory.
Create and Manage AD Objects with Adaxes
One of the most used section of Active Directory hierarchy is Active Directory Users and Computers. System admins are using dsa.msc to create active directory objects such as user, OU, Group, and etc. So let's do how easily Adaxes can manipulate and mange AD objects.
1. To create an object, just right click main domain and select New then chose the exact AD objects you want to create. The below screenshot show the process of create an Organization Unit using Adaxes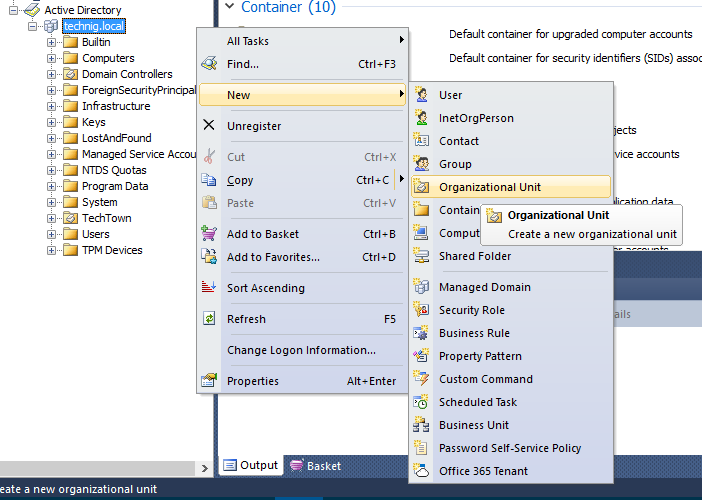 2. On the Organizational Unit Information page, fill out all OU information and click Finish to create the OU.
That's it, the OU object has created successfully. Do the same process for creating other objects and fill out with exact information.
I found some great options on user account creation. These are really interesting and necessary features that an admin need to access them quickly.
Password Policy Settings
Password Generator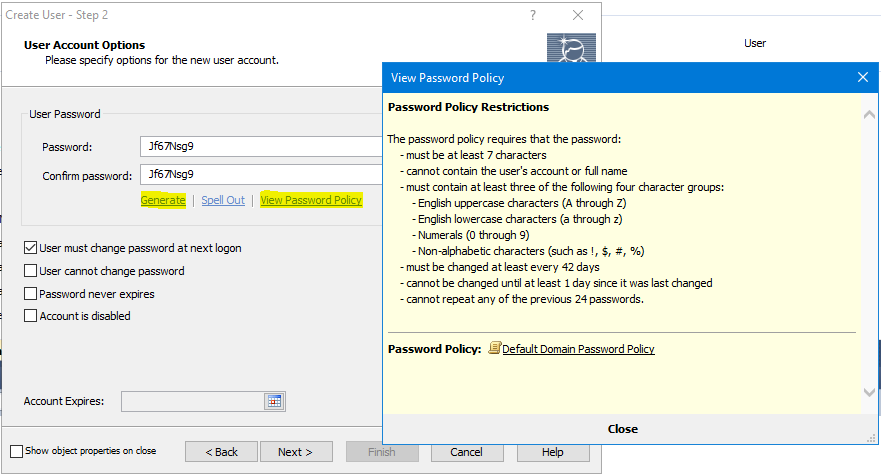 The View Password Policy link allows you see what password policies are applied currently for user account password. And the Generate option help your generate a complex password quickly. When you attempt to change a user password, you have the auto password generator here as well.
Note: For security reason it generate completely complex password that is hard to remember. But you should select the User must change password at next logon option to force the user for changing the password at first logon attempt.
Moving Objects Between OUs in Multiple Domains
Like Active Directory Users and Computer, you can easily drag and drop AD objects for moving objects between OUs. AD objects are easily moving between OUs while you are working with multiple domains using Adaxes. Because the Adaxes support managing multiple Active Directory domains from different forests over multiple geographical network locations.
Edit and Deleting Objects with Adaxes
In case of changing and editing Active Directory objects, simply right click the object you need to edit and select Add/Modify Property or use the shortcut keys (Ctrl+Shift+P).
Navigate to find the AD object attributes or type the name of property. The search option is better feature to find the exact property among these huge names.
That's it, editing the attributes of Active Directory objects with Softerra Adaxes, the Active Directory uuto management tools. All works perfectly. So let's delete the objects.
Deleting Active Directory objects are easy, but recovering the accidental deletion objects are a bit difficult. Specially when you are working with Windows Server 2008. But in Windows Server 2012 and Server 2016 the Active Directory recycle bin came's with easier option. You can simply enable Active Directory Recycle Bin through Active Directory Administrative Center.
Note: 🙁  In Softerra Adaxes Active Directory auto management tools, I could't found Active Directory Recycle Bin. I hope we have this on the next coming update.
Monitoring and Maintaining Active Directory Activities
Monitoring Active Directory with Adaxes is easily perform through Adaxes administrator console and Web interface. The Administrative console shows a clear log reports of Active Directory modification and changes activities. A simple way to find out what has been changed inside AD.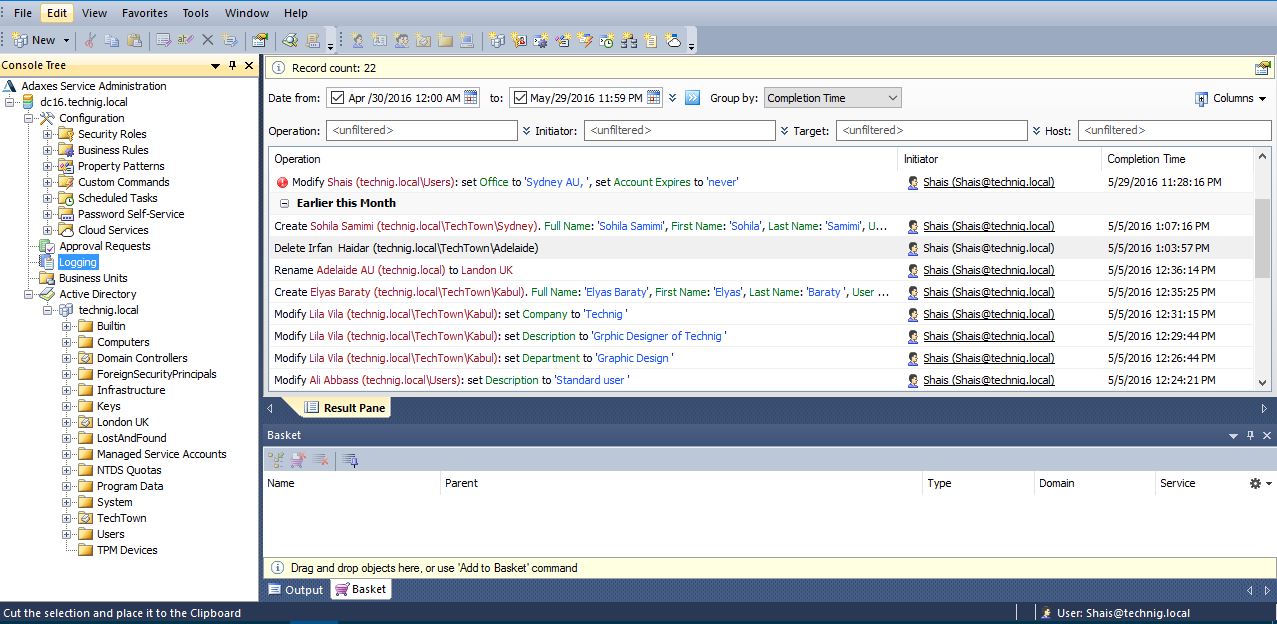 Mostly monitoring occurs when you need to have a clean report's of Active Directory for documentation or understanding what is going on. This section is very important for system admins.
Adaxes Web Interface for Administrators and Help Desk
I find the web interface for administrator and help desk very helpful. Exactly when remotely moderating the Active Directory. To open the Adaxes Web Interfaces tools, navigate to Start Menu > All Apps and expand the Softerra Adaxes 2015 to see all Web Interfaces tools.
Select Web Interface for Administrators and login with domain admin account. See the below screenshot Adaxes Web Interface for Administrators.
You can simply do most common task of Active Directory User and Computers remotely from any domain joined network machines through web browser.
The Search tab of Web interface is for searching and exploring the Active Directory objects. Type the name a user to find or search them alphabetically.
The most valuable section in Web Interface is Reports tab which make a quick and full detailed reports of user account status, general task, password policy settings and etc. Amazingly perform all reporting tasks just by one click.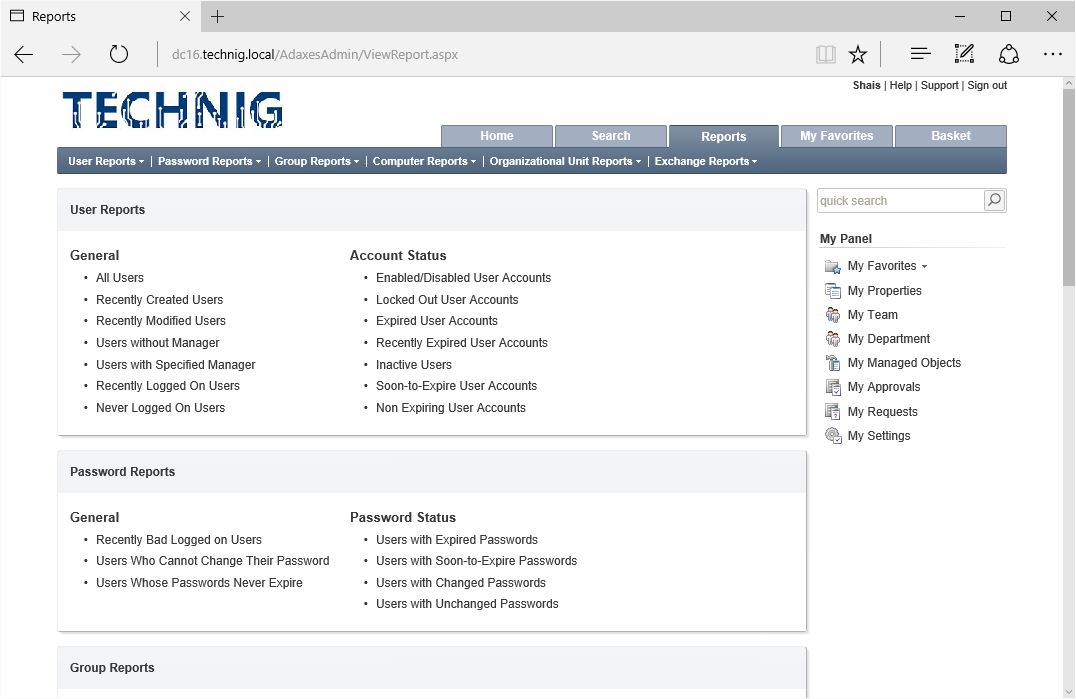 To maintain AD objects, search, find and edit the objects attributes and properties. Works the same as Administrative tools.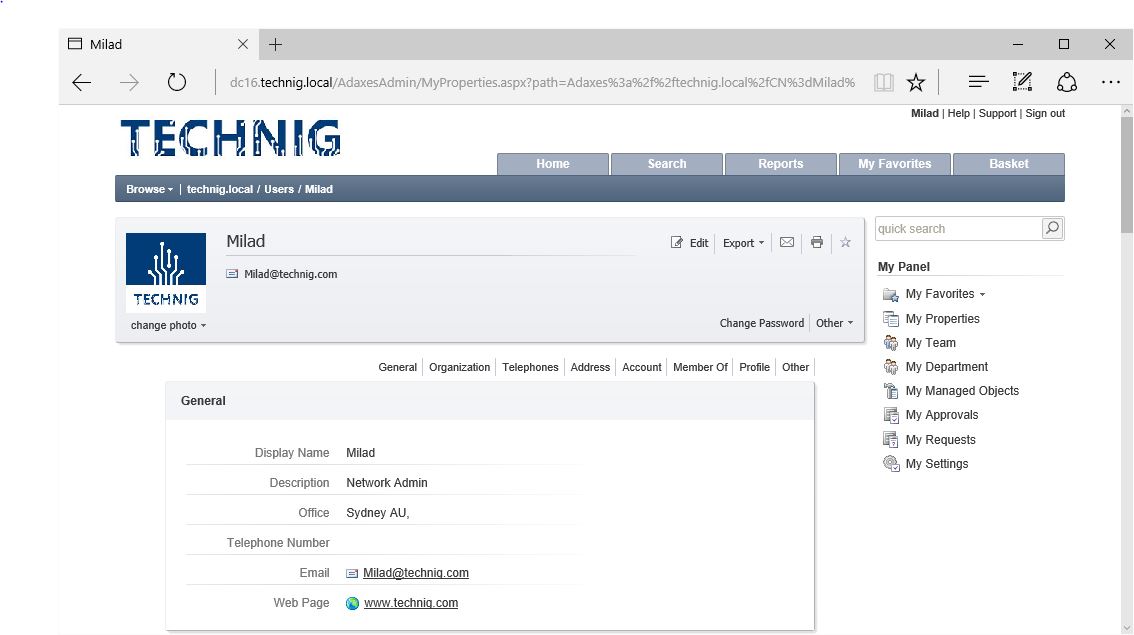 The other web interfaces are Web Interface Customization and Web Interface Self Services. Both are accessible remotely for AD self services and customizing the Web interfaces settings. For instance enabling automatic logon of Web Interface Consoles.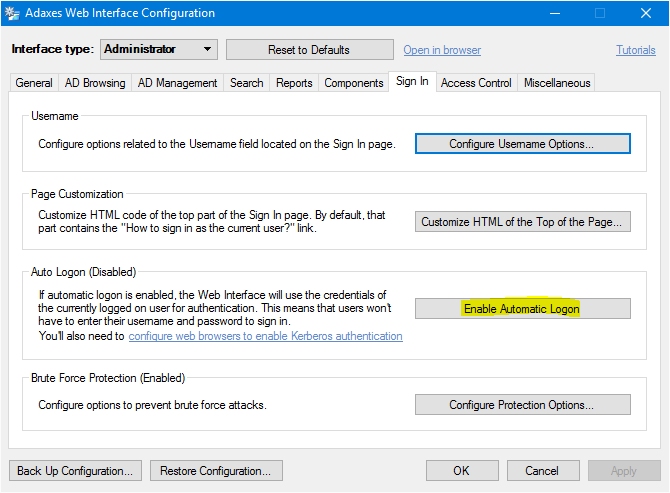 It's where you can customize your web interfaces environment for moderating and managing Active Directory.
Adaxes Administration Console
In the Adaxes administration console you find out many useful Active Directory tools under Configuration. The tools are Security Roles, Business Rules, Property Patterns, Custom Commands, Scheduled Tasks, Password Self-Service, and Cloud Services that all playing it's rules as AD management.
From Security Roles to Cloud Services allow's you to manage Active Directory in a simple and quick ways. It's not completely auto but most features are designed to not be a time consuming AD configuration tasks.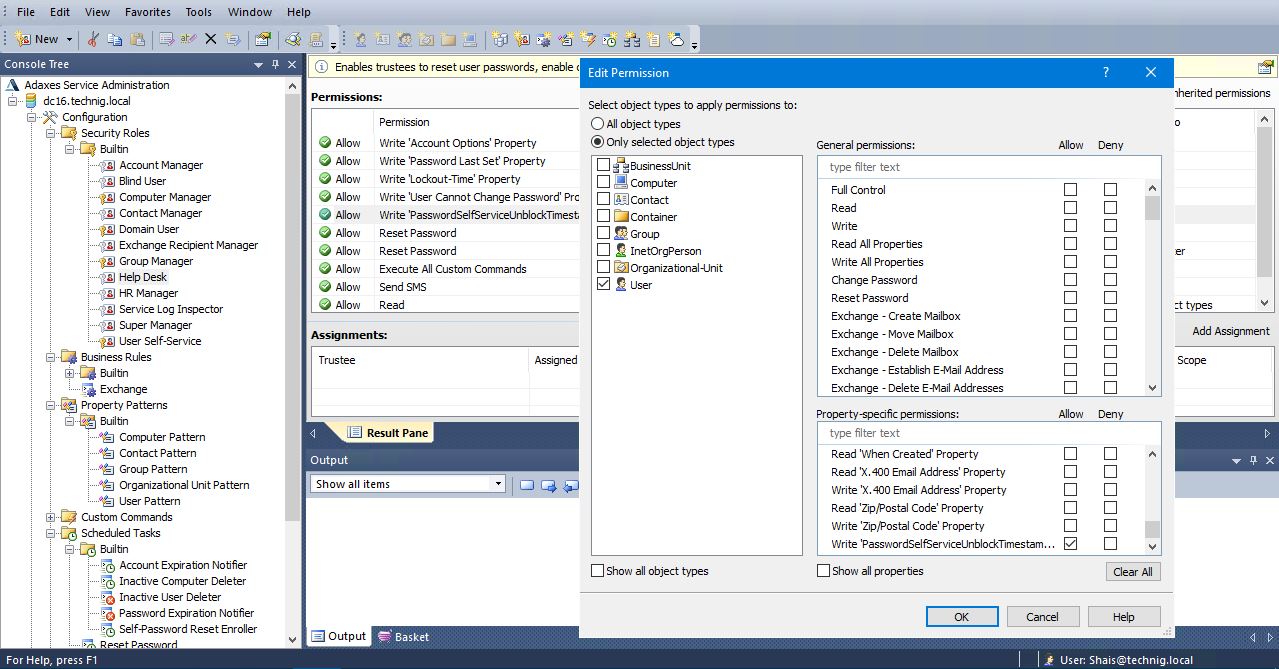 You can edit the builtin rules or quickly create new one for each roles. As a task automation features of Adaxes Administrator Console is Scheduled tasks. It exactly works like Windows scheduled tasks that let you run and automate the Adaxes actions quicker and faster.
The Password Self Services related to password policy of Windows group policy. It's a shortcut way to create a password policy for users and groups using Password Self Service feature. The amazing option is specifying security questions, but the others feature are the same as Windows password policy settings. It would be better to have more options to make group policy management with Adaxes.
Adaxes PowerShell Module for Active Directory
Like AD PowerShell module, the Adaxes has it's own Active Directory PowerShell module which works the same as AD PowerShell commands.
Open Windows PowerShell and import Adaxes AD module with "Import-Module Adaxes" command. You can use the Adaxes PowerShell module interface as well, but the color of Windows PowerShell interface is better.

To check out the Adaxes PowerShell cmdlets for AD, type "get-command -module Adaxes". There are Add, Get, Set, New, Remove, Rename, Enable, Disable, Move, and Unlock cmdlets ready to manage Active Directory objects using PowerShell.
Working with PowerShell command line is easy like builtin Windows PowerShell. To manage AD objects with PowerShell follow the PowerShell articles.
Conclusion
I'm sure using Softerra Adaxes would completely sufficient a system admin in small and large network environments. It has great features that make Active Directory management quicker and faster. The web interfaces for administrators are really great and useful tools for remotely managing Active Directory.
If you are looking for Active Directory management tools that make your work faster and easier, I recommend you to use Soterra Adaxes Active Directory auto management tools. It's also Gold award wining of WindowsNetowrking website which is the hive of most professional and experienced network and system admins.
Download the 30-day evaluation period of Softerra Adaxes and learn more about licensing and price information. Softerra provide you full access to Adaxes and technical support during the 30-days for free.