How to Delete Windows 10 Temporary Files?
Free up your computer hard disk spaces by clearing the Windows 10 temporary files. To delete Windows 10 temporary files, you need to follow the below guide. And before deleting Windows 10 temporary files, you need to know something about Windows temporary files and cached data.
What is Windows Temporary Files?
The temporary files are the cached files which create by software in the Windows Operating System. Nowadays, almost all new software and Apps has created its temporary files. The user must clear it manually in regular times. Most temporary data cached on the root directory of an operating system. In Windows, you can see it to Temp folder in driver C:\Windows\Temp. It is not all, the Windows and Software update files or System Error Memory dump files also take more space of the system drive.
Do you know the system caches occupy hard disk space even more than the real Windows system files? Just check the below screenshot Temporary files section. It is the way to clear temporary files in Windows System.
The screenshot of my computer which installed Windows 10 shows 84GB of temporary files. Now you can understand how much space the temporary files reserved from a Windows system drive.
Delete Windows 10 Temporary Files & Cached Files
So let's try to clear it using Windows Cleanup Wizard which is a Windows built-in tools.
1. Open This PC or File Explorer in Windows 10 and for other Windows (My Computer) and right-click the local drive where Windows has installed. Then click Properties to open the "Local Disk (C:) Properties." In my computer, drive C is the Windows directory.
2. When the local disk properties opened, click the Disk Cleanup on the General tab.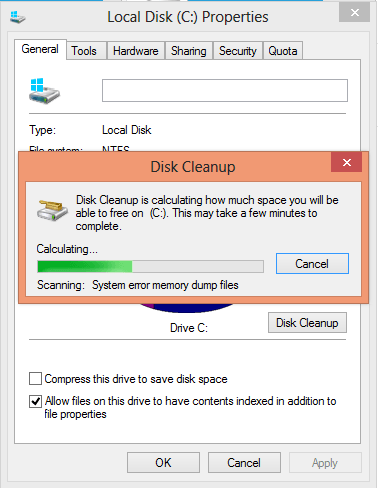 3. The disk cleanup will open and be trying to calculate the temporary and cache files on the system. It will take a few minutes, depends on your Windows 10 system speed.
4. On the Disk Cleanup of the system drive, selects all listed files to delete. The Downloaded program files, Temporary Internet Files, Recycle Bin, Temporary files, and Thumbnails and then click Clean up system files button.
5. On this page select all list of system cleanup files and then click OK to delete Windows 10 temporary files. You can see some temporary files folder by clicking the View Files button. The largest folders are Windows Update files and temporary files which are 84.0 GB.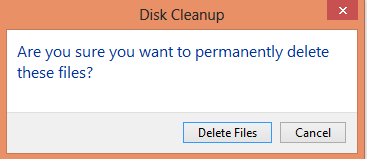 6. Just click Delete Files when asking you, are you sure you want to delete these files permanently?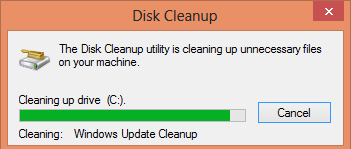 The disk cleaning up process will take time and be patient until the system finishes the task. Don't cancel it. If Windows 10 won't delete temporary files or remove temporary files Windows 10 not working? Just comment us in the command box.